Posted by Matt Russ on 16th Oct 2018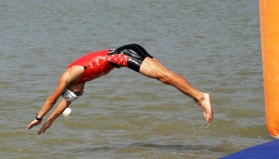 Becoming a pro athlete in any sport is the ultimate dream of many. The esteem, recognition, and of course money that come with professional status are worth devoting some of the best years of their lives for many athletes. But becoming a professional triathlete or obtaining pro or elite status, is something I advise giving careful consideration and planning to before proceeding. This is especially true in the US.
I do have some experience in this arena; over a dozen athletes have achieved their USA Triathlon elite card, or professional status, under my guidance and I have been coaching triathletes for over two decades. Some of my athletes have gone on to very successful professionals, others continued to compete as age groupers not wanting to open the door to professional status. I feel the decision to become a professional triathlete is a topic I can offer a global perspective on, but I also recognize the controversy. In recent years there have been a grass roots effort by professional triathletes to gain a voice and power by electing their interests in the USA Triathlon Board of Directors, and to form a union. This has been contested (sometimes hotly) by the board that feels that the bulk of their members are not best represented by a bunch of professional triathletes. I am not going to weigh in on this debate but it exemplifies the strife and strain professional triathletes feel they are under.
When considering making a run at professional status the first thing to understand is that most professional triathletes, specifically non-draft triathletes, do not make any money from racing. In fact for the vast majority the cost of competition balances out any prize winnings that are earned. These costs include race licenses, travel costs, equipment costs, coaching, etc.. There are a few triathletes that do make a living as a professional, but they are few and far between. Most have "day jobs" or full time jobs that provide enough supplementation to allow them to pursue their passion. In recent years it has become harder and harder to earn prize money as the few series that were paying out a pro purse have pulled them. This means you have a larger pro pool competing for a smaller pool of money. I once listened to a pro triathlete lament that he came away from his race empty handed; when one of my amateurs won a $500 purse in the Aqaubike of the same race!
With the phenomenal growth in the sport of triathlon over the last decade, and the upper middle class demographic, this may have you scratching your head. Why are race directors and decision makers pulling pro purses when their races are making money? Well for starters, not all of them are. The participation level in a particular race can ebb and flow from the black to red on an annual basis based on a number of factors- none the least of which is the weather. It is a risky business and adding in the cost of a pro payout makes it even riskier. And the truth is pros do not create much of a draw in participation; they do not "fill seats" unlike other professional sports, and the audience is relatively small. The main revenue streams for a triathlon are race fees and race sponsorships. Even a modest pro purse of $5000 does not necessarily add up to a $5000 worth of increased participation or additional race sponsorships (or come close). If you ask anyone at a particular race why they are there is is either to race or support someone who is racing. It is unlikely that they came out to see their favorite pro race. And sponsors are looking to increase product or service sales within their target market, which is the age grouper. The pros simply do not have much draw.
Some of the issue is inherent in the sport. If you are not an avid triathlete or have a personal connection to one, triathlon (especially non-draft) is quite possibly one of the most boring sports for you to watch. The races are long, there is little action, and you seldom know what is "going on." At best a triathlon has more of a festival atmosphere than a sporting event. This attracts little spectatorship beyond those with an immediate connection to the sport; which as a sport is still relatively small. For this reason alone it is hard to attract major television coverage or sponsorship. As a professional athlete you must understand your job is not to win races; you are in the entertainment business. There is a lot of balking at the huge salaries ball players command but people line up to fill stadium seats or stay glued to their flat screens; and buy millions in team paraphenalia. The market dictates these salaries or they would not get them. The same holds true for triathlon or any sport for that matter. And for most non-triathletes watching an Ironman is about as exciting as watching their grass grow.
Internationally draft-legal triathlon has a much, much larger following. The difference between a draft legal race an a non-draft is startling in my opinion. For starters most of the race can be observed (by design) from a small area. Courses are fast, with multiple loops that allow spectators to observe swim, bike, and run. Unlike a non-draft race which is more of a time trial, draft-legal events involve tactics, team work, sprints, and yes even crashes add to the excitement. All of this occurs over a much shorter time frame of several hours unlike an Ironman event which takes up the better part of an entire day. There is MUCH more prize money opportunities offered by both ITU and externally. But for some reason (or many) draft legal triathlon has not really taken off in the states and most triathletes are not even aware that it is the "Olympic" sport. In the US when you think triathlon you think "Ironman."
USA Triathlon receives much of their funding from the US Olympic Committee. The remainder is funded by the age groupers. Their charge is to produce the next (draft legal) Olympian. It is no wonder that the non-draft pro becomes the red headed step child. The resources of USA Triathlon are build around funding and producing a pipeline to the Olympics. Whether or not they do a good job of this is a different argument but do not expect any support from the governing body in assisting your non-draft career.
Now that I have created this dismal picture, what advice would I offer a talented young triathlete that wants to pursue a professional career? My first bit of advice is that your financial opportunity is far greater in draft legal racing vs. non-draft. However you will have to be exceptionally fast to race in this arena. How fast? To hit the run times alone set forth by USAT developmental programs you would easily be a collegiate scholarship level runner. It is sort of a giant chicken and egg- you get to this level we will offer you these resources, but there are no resources to develop you until you get to this level. This means you will need private coaching to get you to the first rung in the USAT developmental ladder, before USAT will offer even minimal resources to a developing draft legal pro. Now every sport has a developmental ladder, but the sacrifices of a draft legal pro seem particularly arduous. However you CAN make a living if you are good; even a decent living if you are really good.
If you are targeting a career path in non-draft racing this means Ironman branded events or a smattering of other races that pay out smaller purses. It has become very difficult if not impossible to earn a living racing non-Ironman events, and this does mean you are at the mercy of what direction the World Triathlon Corporation decides to the take the sport. The WTC essentially owns long course triathlon. Sponsorships for non-draft triathletes seldom come in the form of a check, and are usually free or discounted product from triathlon related businesses. I often advise athletes that they will have a greater effect on their local triathlon community as an up and coming pro. There is money in triathlon and the demographic is very lucrative. You may be able to obtain a sponsorship from a local business owned by an avid triathlete. Local bike or tri shops will often offer pro support but you have to earn it. This means actively marketing and promoting your sponsors. Do not expect sponsors to contact you once you obtain your pro card, or even if you are racing well. Very few triathletes can name the athlete that came in forth at the Ironman World Championship last year. Part of your "job" as a pro will be obtaining, managing, and promoting your sponsors on an ongoing basis. Get slack on this for a year and you will likely lose them the next.
Now for the silver lining; what I have left out of all of this information is the one intangible worth pursuing- passion. I would never advise someone NOT to pursue their passion. Becoming exceptional at something, anything, comes with a vast richness of experience that will be remember for a lifetime. Pursuing passion involves sacrifice, and sacrifice builds character. You can not put a price on these things. If triathlon is your passion don't let anything stand in your way, but at the same time you want to have a backup or contingency plan, and/or a parallel career choice. Balancing these choices is the hard part.
Matt Russ is a full time professional coach with over two decades of experience working with athletes up to the professional level. His athletes have achieved numerous regional, national, and international titles under his direction. Matt has achieved the highest level of licensing by both USA Triathlon and USA Cycling, and is a licensed USA Track and Field Coach. His accomplishements include being named "Team USA" Coach by USA Triathlon. Matt is Head Coach and owner of The Sport Factory, a USA Triathlon Certified Performance Center located in Roswell, Georgia. Visit www.sportfactory.com for more information or email him at coachmatt@thesportfactory.com