Posted by Matt Russ on 8th Dec 2018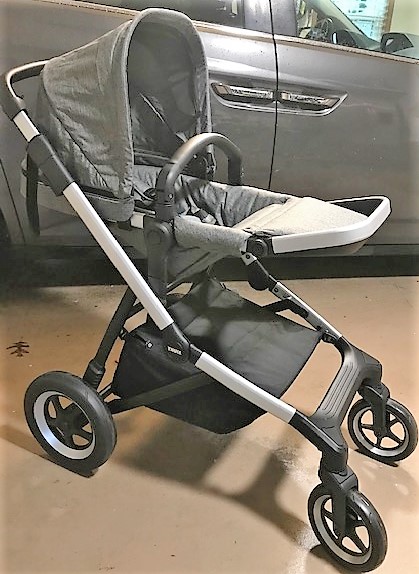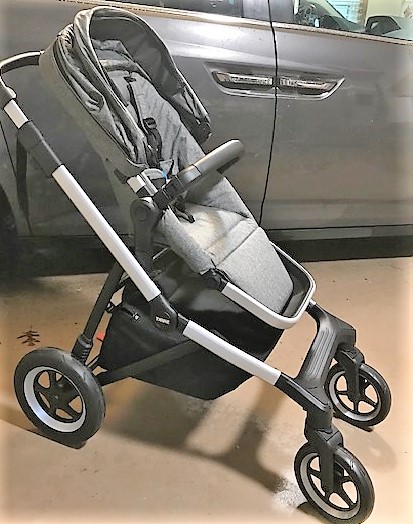 With a two year old and another on the way we began our search for a tandem stroller. What I discovered was that while there were plenty of tandem strollers, there were few that could accommodate an infant and a child. Having owned two Thule strollers; an Urban Glide and Urban Glide II, I can vouch for the quality and durability. After several years of abuse from a very active wife that exercises daily, and loads it in and out of our minivan constantly, the only wear on our Urban Glide was some of the foam on the handle. Thule was already high on our list and when we saw the videos on the new Thule Sleek, we put it on pre-order.
What is unique about the Sleek is all the different iterations you can design to meet your needs, by my count 14 not including the glider board. We opted for the stock stroller with the optional Thule Sleek Chicco car seat adapter ($59.95) which would allow us to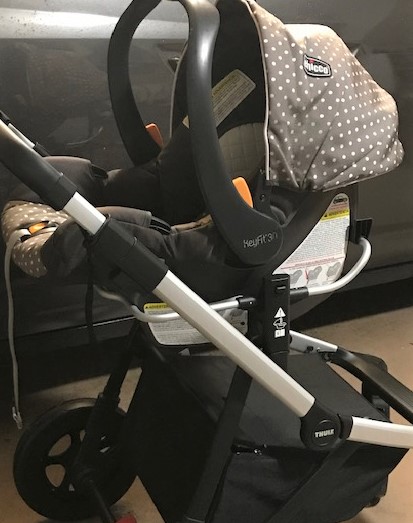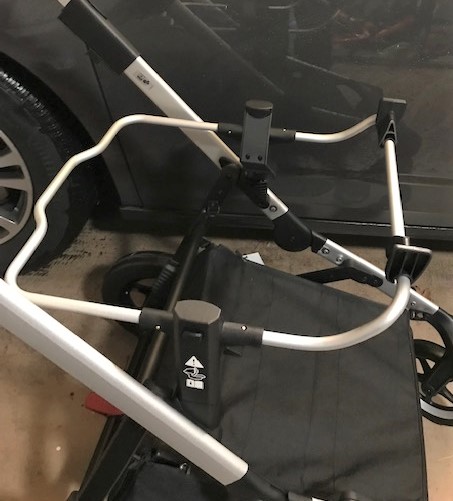 put our 2 year old up top and our infant in the bottom position without having to get him out of the car seat. We did not purchase the Thule Sleek Bassinet for another $199. The car seat adapter worked great on our Urban Glides, and you do not have to take the extra step of waking them up and transferring from the car seat.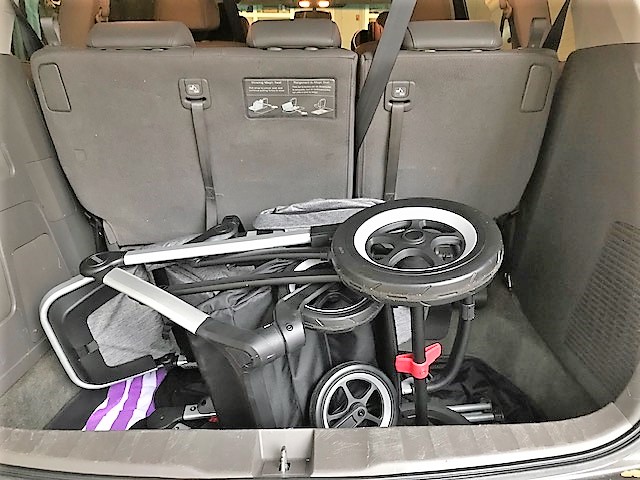 Just like our Urban Glide assembly and set up was easy out of the box, basically just putting two wheels on and attaching the seat. Once you figured out where the buttons and levers are everything works with ease. Our Urban Glide allowed us to fold up and put in the back of our minivan with one hand after a bit of practice. The Sleek does the same and surprisingly takes up less space than our Urban Glide; and weighs just a couple pounds more. It is basically a tandem that takes up the space of a single stroller.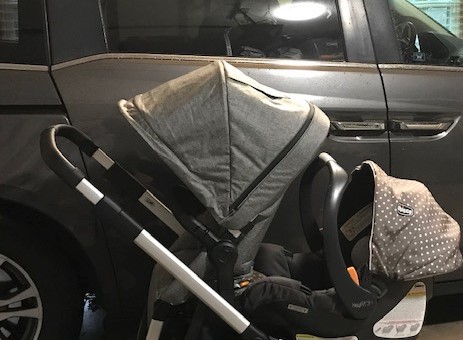 The child seat reclines almost flat and the canopy is expandable transforming the seat not quite into a bassinet but close. It is also easily removable meaning you can take a sleeping child out of the stroller without waking them just as you would remove a carseat from its base. The canopy is highly adjustable to the conditions and has a peek a boo window to check on your child without stopping. It is easy to strap them in and just one button to release them, making it pretty fumble proof. It comes with a rain fly which was an option on our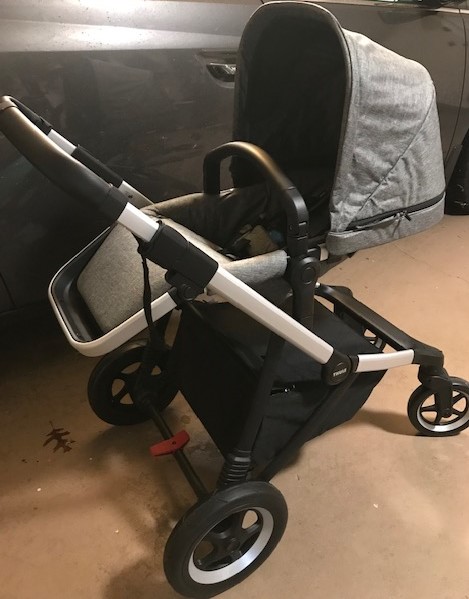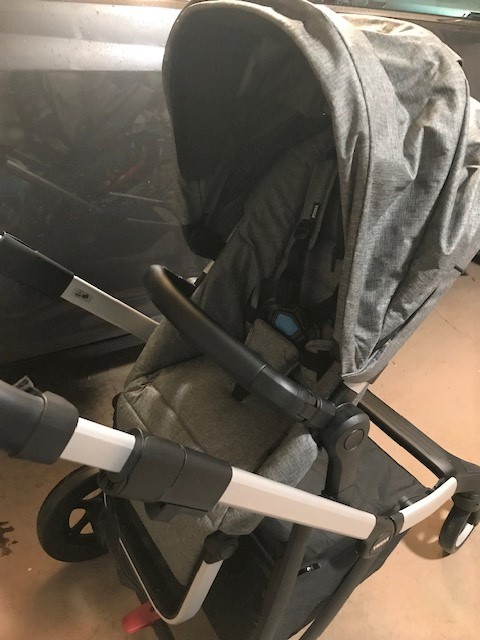 Urban Glide and has an easy access storage compartment underneath. The Sleek allows you to put two children in tandem with the option of purchasing a second Thule Sleek sibling seat. The two seats are positioned at about a 45 degree angle that allows them both a view; which means occupied. Our two year old would not last long looking at the back of his brother's seat. The seat itself can be turned to face you as well for those parents obsessed with checking on their child. As I said there are 14 iterations that allow each accessory (seat, bassinet, car seat) to be forward or rear facing, up or down.
We purchased the Thule Sleek adapter kit for $49.95 which allowed us to put our 2 year old up top with the car seat down below. We just liked this setup better for getting the car seat out. Moving forward we have the option of purchasing a second child seat but I doubt we will need it at that point. We will likely purchase the Thule Sleek Glider board for our older boy to hitch a ride when needed.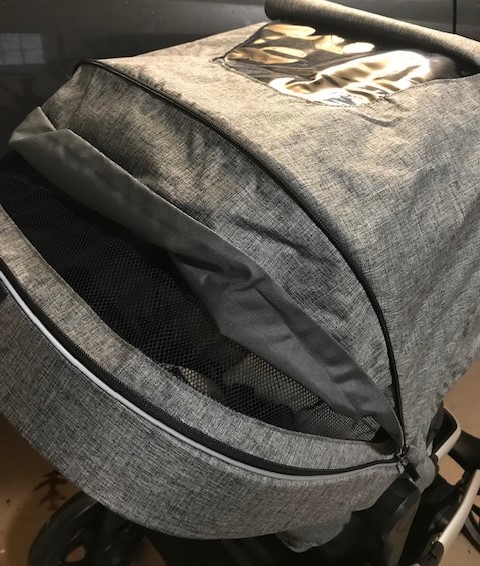 The Sleek is definitely in the premium category at $799.95, but bear in mind this is the one stroller you will need if you plan on having several kids. If you add up the cost of a bassinet, stroller, and tandem you are likely already over that price. And the quality is such that it will handle years and years of abuse. For two children, or two infants, or an infant and a child, etc., I can't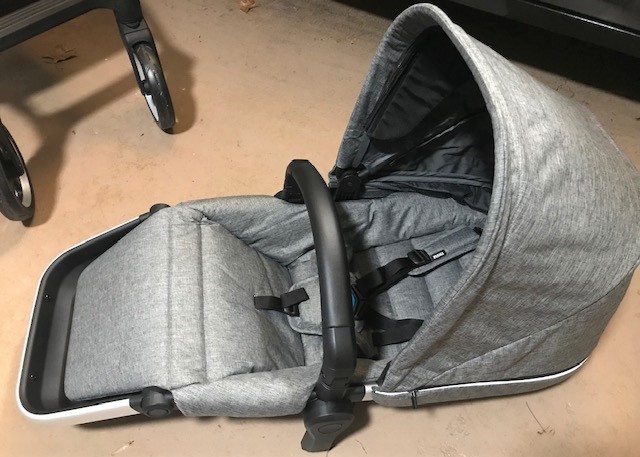 imagine a scenario in which the Sleek is not future proofed. There are also a wide variety of additional accessories and conveniences such as a cup holder, snack tray, seat liner, mesh cover (which is great if your child is allergic to bees), changing bag, even a foot muff! Overall it meets all of our needs for two kids in a lightweight, compact design that can be put in the back of a minivan one handed.