I am currently a member of the Sport Factory Elite team. I have competed successfully at all triathlon distances from Sprint to Ironman. My favorite distance to race and my focus is the 70.3 distance.
My journey to triathlon started as a competitive swimmer and a high school cross country runner. I wanted to swim in college but I wasn't quite fast enough to swim for my school of choice (UGA), yet couldn't afford to go out of state where I could swim at a smaller school. The summer after my high school senior year, I picked up triathlon, participating in a handful of sprint distance races, but my athletic endeavors took a different turn when I joined the rowing team. I was completely consumed by the sport! I put in extra hours of training and was heavily involved with the organizational aspect of the team. My work paid off as I raced in crews that won regional and national level regattas. After my four years of eligibility, I gravitated toward coaching - first as a freshman assistant and then eventually taking over as head coach of the program for three years. I obtained a US Rowing Level II coaching certification and coached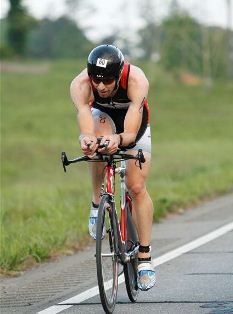 competitive crews on the national and regional level. During this time I also spent six years as a summer league swim coach in the Gwinnett Swim League.
However, my commitment to the collegiate rowing team was not allowing me to pursue my own athletic endeavors. While I had dabbled in triathlon over the eight years I spent in rowing, I was never serious about it. In 2007, I began working for REI part time and learning bicycle mechanics. After the 2008 season, I left the rowing team to pursue a full time career with REI. I assumed my current role of master mechanic at the Buford, GA store in 2009. This job requires a certification from the prestigous Barnetts Bicycle Institute (Colorado Springs).
In 2008 I completed my first half Iron distance race. Each year following I got more serious about the sport and in 2010 while preparing for my first Ironman, I found The Sport Factory and was invited to be on the Age Group team and also received a coaching scholarship. Due to gaining a highly skilled coach from the Sport Factory, I improved tremendously in a short time and earned my current spot on the Elite team. Since then I have recorded five overall wins and six additional top three overall placements. Previous to finding the Sport Factory, I struggled to crack the top 10 in local races. During my time working with a sport factory coach, I have dropped over 30 minutes off my half iron PR (4:26).
I am coming back to coaching, this time in triathlon, because I have missed helping others reach their athletic goals. I believe in a methodical approach to training where each step builds upon the previous; the science behind each step is important as well. My goal is to help athletes train in a way where there are no "junk" miles and they can be extremely efficient with their time. Finding balance between life and training is key to getting faster and also keeping the sport fun. My development as an endurance athlete coupled with my full time job as a bicycle mechanic/salesmen gives me the ability to help athletes figure out what equipment choices they need to make to match their goals in training and racing. I am a licensed coach and consider myself adept at the technical and scientific side of coaching which greatly interests me.