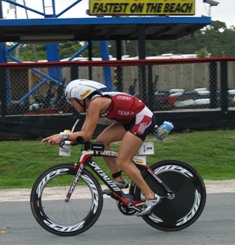 "I incorporated the techniques you showed me on my rides this week-end and was AMAZED at the difference. I can honestly tell you that I enjoyed a mostly pain-free ride for the first time since I can't remember when! Thanks again so much. It was the best $$ I ever spent!" - Marsha Spear

Why do you need a bike fit? A competition grade bicycle is not cheap. Once fully outfitted, you will have probably spent thousands of dollars. In order to get the most value out of your investment your bicycle should fit you like a glove. The three main considerations in fitting a cyclist are comfort, power production, and aerodynamics. You must choose a balance and proportion of these three elements in order to achieve your optimal fit. This proportion will be based on a variety of individual characteristics such as the type of cycling you will be doing, competitive level and experience, muscle imbalances or previous injuries, and your personal biomechanics and riding style to name a just a few.

"I rode 46 miles on Sunday and 33 miles on Tuesday without the slightest bit of pain in my knee. Unbelievable!!! The setup feels good and I actually feel more relaxed on the bike. More power also." - Jim Thompson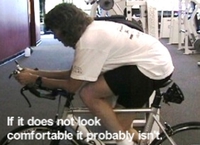 Comfort comes first- does this look comfortable? If a cyclist is very uncomfortable on their bicycle they can not produce power: period. Some level of comfort may be sacrificed for performance (aerodynamic drag), but cycling should not be painful. If you are experiencing joint, back, or neck pain it is time to look at your fit or perhaps your pedaling mechanics. Saddle soreness or numbness should be addressed immediately.

"My bike never felt right. My neck, shoulders and back always hurt, and after longer rides, my knees sometimes hurt. After fitting me correctly, nothing hurts, my bike feels amazing, and climbing is easier because I have better leverage in the saddle." - Linda Silberman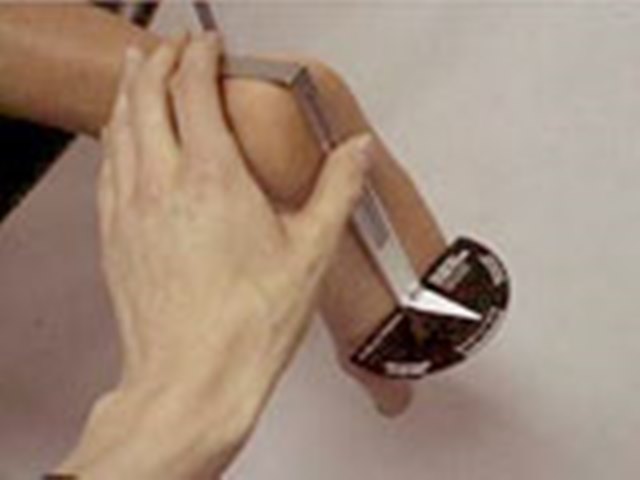 Fitting you is a unique process. The fact that every person is unique does not make bike fitting easy. Some are bow-legged or duck-footed. Torso length, leg length, and arm length all vary from person to person and in proportion to each other, and sometimes vary from left to right on the same person. Backs can be rounded, swayed, or curved, and hips vary in widths. The bottom of the foot may angle inwards or outwards. It is not always appropriate to adjust your bicycle in consideration of a biomechanical condition, and knowing when and how takes a great deal of expertise. We use tools such as the Speedplay Determinator system to selectively dial in each fitting.

"I felt like I was able to apply significantly more power and my lower back pain was practically nonexistent."- Mike Morrisey

Do you suspect your bike fit is causing an injury? When you are injured, your body compensates for the injury by using different muscles to do the work of the ones in the injured area. Even after the injury heals you may continue to work in a compensatory fashion. This may be habitual and can cause a variety of problems with pedaling mechanics. Tight hamstrings can lead to lower back problems on the bike, and cycling in general can lead to muscle imbalance over time. Again, it takes a professional to diagnose and correct these issues. This may mean adjusting your fit to a more neutral position while the area is stretched or strengthened. If you are experiencing an overuse injury a professional may be able to adjust your fit to alleviate it entirely. If you are experiencing joint pain do not wait for the issue to resolve itself!

"There was such a dramatic difference in my comfort, speed and enjoyment that you may be hearing from some of my riding buddies in the next few weeks." - Jaunice Christian


Which fit system is best? There are a wide variety of fitting systems that use ratios, formulas, algorithms, computer programs, etc.. These are even available online and each of these has its pros and cons. Bike shops utilize fit systems that can be performed quickly so that they can service more customers.The most important thing to remember is that every fitting system simply gives you a starting point. No computer can tell you how your bike should optimally fit because no computer knows your riding style, biomechanics, injury history, or how you FEEL. This is where the art of bike fitting begins and it takes one to one interaction with a trained professional to fit you properly.

"The bike fit is great! I can definitely tell I'm more aero now than I was previously and my speed is faster because of it.YEAH!!!!!!" - Sherry Shelton"

Not just your fit but how your are riding. We can incorporate video analysis to examine how you ride before we fit you. This allows us to determine not only how you are sitting on the bike, but how you are riding it. A form issue can be causing your problem, or your fit can be causing your form issue. It is important to learn the difference before making adjustments. As you get more competitiveyou may desirea more aerodynamic or "agressive"position. It is important to discuss how this will impact your cycling andhow your body must acclimate, individually, to the new position.

"Thanks for all of your help with the bike. I really appreciate you sharing all of your expertise and spending all of the extra time getting the fit right!"- Natalie Taylor
"Matt - You recently performed an advanced fit and added aero bars to my bike. There has been such a big difference in both my comfort and performance! I was able to cut almost 20 minutes off my Iron Girl time." -Judith Garrard
"The bike fit on Friday made for a very good ride on Saturday morning. Nice to finally ride with no issues or pain." - Sam Holt
"I wanted to let you know the bike fit worked well. No knee or neck pain on longer, harder rides. It just feels good when I am done...Thanks!" - Jerry Chepaitis
"I just wanted to let you know the bike has been much better after you adjusted it for me. The leg pain has resolved and my last two outdoor rides on the tri bike have been great." -Michelle Hart
"Matt, Just wanted to let you know the bike fitting is great…even though the changes were small, I'm liking the improvement!" -James Baumann
"The fit went well. Been no problems on long bikes lately. I believe it all had to do with my shoes (adjustment)." - Kirk McElreath
"Matt, I rode 31 on Sat and 53 on Sunday. I don't have any back or neck pain! I was surprised that I was pretty comfortable in the aero position. I will let you know if I have any concerns in the next 2-3 weeks but I doubt I will have any." - Monica Nelwan
"Thanks for your help. I rode the bike this weekend and it felt really good, a lot more comfortable." - Gil Kochman
"Coach, awesome ride today with the new cranks and fit. I did 50 at Columns in 2:15! Felt great and cranked 200 watts average." - Ray Brown
"The bike is terrific! You guys work great together. I've given out your names twice. I will continue to do that – in appreciation.The bike is terrific! You guys work great together. I've given out your names twice. I will continue to do that – in appreciation." - David Smith
"... just wanted to give you an update - problem solved! I rode 30 Saturday, 20 Sunday and Monday and 50 today... NO problems with my hands at all!Thank you so much! I am so excited and really appreciate all your help!!!!" - Diane Mangum
"Just a note to let you know that I absolutely *LOVE* the bike fit!! I rode about 40 miles today and had no pain on the new saddle...You did a fantastic job!" -Kim Johnston
"I want to say that the fit changes you made are phenomenal. This is the first time I have been completely comfortable on a bike to the point I can ride 4+ hours pain free." -Marc Adams
"I have tried the new fit for the last two weeks ( 130 miles) and most everything feels good. I feel some big difference in my hand position on the aero bars .... back pain seems to be a lot less ... mechanics feel a lot more tight and efficient. It for sure has helped some in speed and a lot in comfort on my longer rides." -Lebron Pinkerton
"Matt, I wanted to give you an update on my bike fitting...Everything was great. It was the best ride I've had this year - faster, very comfortable and no post-ride soreness/stiffness. So, thanks for the adjustments you made to my bike (stem, seat height/position)." -David Green
"The changes you made to my bike have made an amazing difference in my riding. I am going faster with less effort!! Even the hills are easier and I am not getting dropped on them!!" - Charlotte Marks
"I wanted to drop you a quick line to say that the re-fit and new inserts on my bike shoes did the trick! My knees are feeling much better!" - Bill Willeman
"I knocked down 24 this morning. I felt like I had more power with my seat adjustment and those inserts in the shoes are awesome. " - Brad Hoth
"I wanted to thank you for fitting me on such short notice when I was town. I have been riding nearly everyday and my back pain has completely disappeared. Thank you so much for all your help and hospitality." -William Shults
"Just wanted to say " thanks " for a great bike fitting. Have only gotten in a few small rides after letting my knee calm down. The bike feels great and the whole knee issue seems to be resolved as well. Thanks a ton!!! " -Lebron Pinkerton
"...My initial thoughts are that the fit is spot on...I feel like I'm able to apply more steady state power at the same effort level than before. The biggest bonus immediately for me, though, is that my hamstrings don't appear to hurt like they did...No numbness in my toes." - Patrick Johnson
"I struggled for years with establishing a solid shoe/pedal interface due to excessive pronation. One fit session with Matt solved my problem and the next day I went out and raced and set a CP!" - Betsy Brucken
"I gotta let you know that the bike fit and new pedals have been great! It took a little getting used to at first bc I wasn't having to correct my awkward balance anymore... but overall, it's now been a great improvement. I've gotten in a few long rides and one race since getting the fit, and I'm noticing a big difference. Thanks! "
"Thanks so much for the fit on Sat. I got out to ride today, got out of my neighborhood and IMMEDIATELY felt more power transfer to the asphalt. The biggest difference was my ability to stay aero going up small hills!! It was truly amazing and shocking the difference. " - Lanier Nichols
"Hey Matt,
I wanted to thank you for taking the time with me last weekend. Since then I've been on my bike three times and to be honest it feels like I'm riding a completely new bike. I feel far more comfortable with this set up and even better, more efficient. I'm really looking forward to the upcoming season. Thanks again!
Very best -Stephen Strait"
"I went on a short ride on Sunday and I felt much better on the bike, noticed a difference right away in the ride particularly in the reach and more power in the pedal stroke. - Dan M"